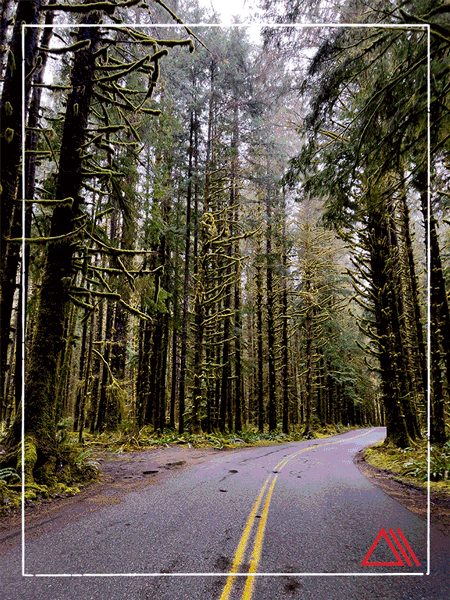 The rain was falling heavily the next day, summoning me deep into the rainforest with the most noble effort it could muster, and the promise of silence. As I followed the gray clay trails through magical moss covered giants I stepped carefully, as the roots took no issue with exposing themselves and the quicksand-like puddles threatened to leave me without shoes as the mud pulled at them with great intent, forcing me to pay close attention to where I landed. One misstep and I imagined I'd be swallowed up by the ferns and tangled green masses around me in my search for silence.
The green moss monsters rose up from the earth bathed in a constant mist of drizzle were unlike anything I've ever seen. The rich greens, yellows and browns extended as far as the eye could see. Water droplets hung steadfast to every surface they could find.
I searched in vain for the little red cube I had seen on the PBS episode about Gordon Hempton's findings years ago, marking the location he deemed one of the few remaining silent natural areas in Washington state. There was no silence. The birds' cries, the rustle of leaves caused by unseen inhabitants, the rush of the Hoh River at my side, the rain tap dancing upon the leaves, trunks, ground, and even my head. I think if I listened closely enough I could even hear the ferns growing! It was so loud it forced every thought I had out of my head, every variation of rumination, every fear, and every bit of sorrow. With every raindrop a tear I had stored up that was pooling close to the surface found an easy escape until a great sense of relief passed over me. I felt free again. It's a freedom only nature brings to me.