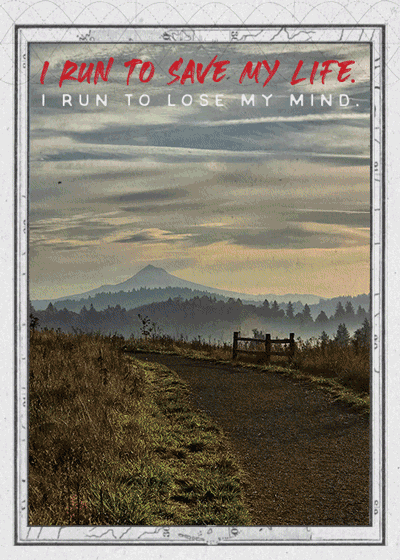 Submerging myself in nature reminds me that I can stay firmly planted while continuing to grow and change, to nurture myself and that which is around me, to persevere, adapt, and to be more forgiving and accepting of what comes my way.
I may not run the longest distances, the fastest paces or reach the highest peaks, but I do find a place of calm in the storm that's inside my brain. I may not be the best running partner, as sometimes I like to stop and press my spine against a tree to feel the grief and negativity drain out of me and be replaced with the energetic flow only the trees and earth seem to provide me. I stop and listen to the birds sing, the trees sway and water move. Sometimes I shout "THANK YOU!" again and again, but that could also just be inside my head.
I persevere to save my life, to understand nature, the universe and myself better, to pause and listen, to leave tears and worries behind. I have learned to trust the trees, and in turn, myself.
The photos I take are in an effort to soothe my soul on the days I can't run, the days I search inside myself for beauty and have trouble finding it. They act as gentle reminders of the freedom nature provides and offer a reprieve from the mental trappings I struggle with when stuck behind mental and physical walls. It's all still right there, waiting until the next time I get to lace up my shoes and feel the earth beneath my feet again.