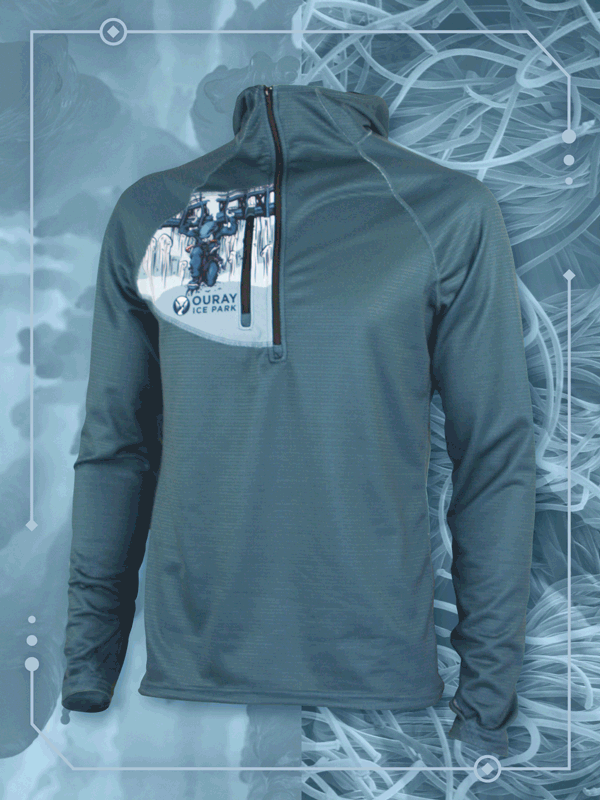 Last March, 12,000 pounds of rock suddenly broke away from a cliff and destroyed the Trestle Bridge at the park's main entrance. The deluge blocked access to one of its most popular areas and knocked out a water supply line which feeds the "ice farming" infrastructure for a large chunk of the park.
To raise funds to repair the bridge and keep the Ouray Ice Park alive, officials quickly launched a GoFundMe campaign. In addition, they struck up a collaboration with NW Alpine, an outdoor apparel company based in Salem, Oregon, to develop and manufacture a special product to support the park's fundraising goals.
The limited-edition NW Alpine Black Spider Hoody is made with Polartec® Power Grid™. This patented technical fleece strengthens performance efficiency by increasing warmth and breathability while also reducing fabric mass, making it a perfect layer for ice climbing. The fabric is milled in the U.S., and NW Alpine proudly manufactures the garments by hand at their Salem factory. For every $159 hoody sold, $100 is donated to the Ouray Ice Park to help rebuild the Trestle Bridge.