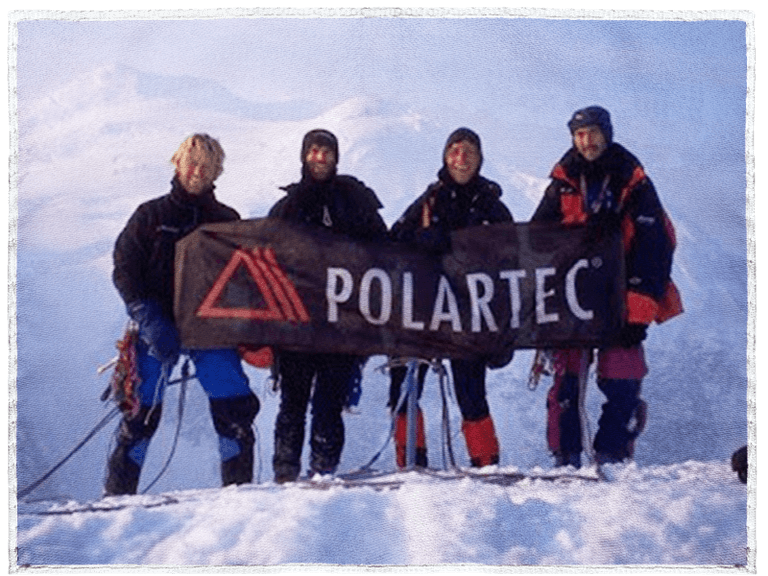 From 1991 to 2006, the Polartec Challenge Grants funded dozens of jaw-dropping adventures in remote locations, taking the world's most adventurous outdoor athletes — outfitted in gear initially handmade by then-Polartec Marketing Manager Ruthann Brown — on expeditions that defied gravity and local law while planting the Polartec banner in Pakistan, the Arctic Circle, and tons of far-out locations in between.
The grants started as a brand-building initiative in 1991. This year is critical as it marks the introduction of the Polartec brand. After ten years of marketing different iterations of a Polar system (PolarFleece/PolarPile/PolarLite/PolarSoft), we finally settled on the Polartec name and iconic Peaks as a single logo. By this time, our fleece was readily adopted by more and more outdoor enthusiasts, and uniting around a single mark just made sense. This new status didn't go unnoticed by Malden Mills resident enthusiast and PR Director Jeanne Wallace, who saw the opportunity to further establish Polartec as an authentic outdoor brand.
Her first grant was to Ned Gillett and Suzy Patterson's expedition to travel the Silk Road. It was the success of this trip - through press and word of mouth - that pushed the team to make funding such treks as a way to integrate Polartec into the lives and language of the most cutting-edge outdoor athletes.
As Jeff Bowman, Malden Mills Director of Marketing, said, "the Polartec Challenge Grants were a way to earn some chops in the outdoor world... and move the perception of Malden Mills at the time as a bunch of 'garmentos' to a true outdoor company."