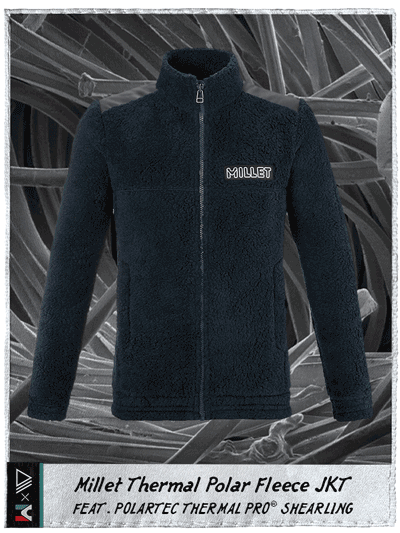 Polartec is honored to be a part of Millet's HERITAGE Collection as they look back at 100 years in the mountains. This collection remembers the great mountaineers of the '80s who pushed the movement of performance textiles in extreme mountain sports. And there was no better partner for Millet than the makers of original fleece.
"The Thermal Polar Fleece proposed in the HERITAGE collection, is a product with a vintage design," said Thomas. "It has been inspired by the iconic Millet fleeces revisited with a fabric proposed by Polartec with an old-fashioned touch, yet definitively with a modern style, thanks to its comfortable and thermal technical side."
The Millet Thermal Polar Fleece JKT is designed with Polartec® Thermal Pro® Shearling fleece made from 100% recycled PET plastic. Designed to preserve warmth in the coldest environments, this special edition jacket includes a Millet 100 Year Patch logo on the shoulder and chest. The HERITAGE Collection is available for Fall/Winter '21.
Here's to another century in the mountains.